Author and Futurist Mac Tonnies died in his sleep in October 2009 at the age of 34. This video, produced by Rita J. King is a memorial to his life and energy and his belief that we are exquisite machines.
After five years of communicating constantly in the digital realm, Mac admitted that he was somewhat agoraphobic, afraid to leave Kansas City and yet hungering for the coastal life of New York or San Francisco. In a series of conversations in 2009, I convinced him to come to New York and visit. He feared that he would no longer be viewed as an interplanetary man of mystery but rather as a bald guy with two cats who loves to ponder extraterrestrial intelligence. Read more at the following link.
My First Digital Death: The Technology of Consciousness
Among the legacies of Mac Tonnies' short life is his final book,
The Cryptoterrestrials, which you can find on the right hand sidebar.
In Memory of Mac Tonnies by Atrueoriginall
Mac's last reply to a tweople. Click on picture.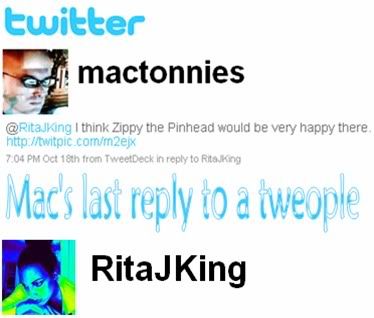 Mar 2010
Feb 2010
Jan 2010
Dec 2009
Nov 2009
Oct 2009
Sept 2009
Aug 2009
July 2009
June 2009
May 2009
Apr 2009
Mar 2009
Feb 2009
Jan 2009
Dec 2008
Nov 2008
Oct 2008
Sept 2008
Aug 2008
July 2008
June 2008