ALIEN CASEBOOK - FRINGE
Click here for the new - ALIEN CASEBOOK - FRINGE
This site will be a compilation of everyone's work in multi-topic fringe and esoteric subjects on a moment to moment basis from the Internet. My intention is to have all articles link back to the original author or other source, however currently I've added some older posts of mine from my forum so presently there are some articles that link back to my forum and then to the author. In the future however, all articles will be linked back to their original source. As well, you'll see that I've tied my forum into the website navigation links by board category. I don't think I've ever seen that done before this way and thought it was a good idea.
The topics are UFO, aliens, paranormal, spirituality, synchronicity, wisdom, dreams and visions, Earth's woes, science, and my favorite, which is debunking conspiracy theories that are still hanging around but need to go.
I have plenty of room for navigational links if you would like me to add yours to the front page. Simply email me at aliencontactee@aliencasebook.com and give me your link and what description you would like to use on the navigation link.
NEW ALIEN CASEBOOK BLOG
Click here for the new blog
ALIEN, UFO, PARANORMAL BLOG
This Blog you are in right now does not pertain so much to the paranormal. It's difficult sometimes to mesh the two even though they do pertain in many ways if you're talking aliens. Essentially, I found myself struggling with not being able to share my personal interests in here. Being a contactee, the paranormal is ever present in my life. The abductee part is over and the induction part has been going on since January 7, 1997, so you can see where I needed a blog that would pertain to subjects other than aliens and UFOs solely.
Besides my own personal experiences that I'll be writing about, I will as well continue to post the articles of others with maybe a paragraph or two, a picture, and then have them link back to the author or source for the complete article.
About the only drawback I've discovered is the tremendously large increase in my Google Alerts now while having to add the word paranormal, amongst a couple of other labels. Sheesh! I used to wake up to about 20 to 30 but this morning I woke up to 70+ Google Alert emails (with 1 to 6 alerts per email). This was along with everything else I had to read. lol
I also intend on keeping the Alien Casebook Frontier Blog and the Alien Casebook Forum active. The forum will now change it's face as it has below, and become more a forum.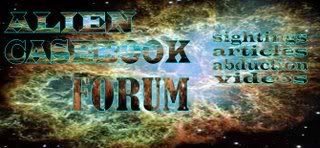 Click here for the
ALIEN CASEBOOK FORUM
The forum is my baby and currently what holds many of my own personal experiences. Unfortunately, a box holds the bulk of those experiences, which should change here shortly as well. It is the forum however where I manage to hook up with other experiencers such as myself so it's still of greater importance.
This more recent fire and explosion at ThePlanet was a real eye opener to me as to how fragile our posts on the Internet are and how easy it is to lose everything. A real sickening feeling came over me because Conforums went down on the 31st, the day before the explosion. Suddenly three days later everyone else involved was going up however Conforums stayed down. That fourth day was a living hell for me as I sat there staring at Google cached items wondering if I was going to have to copy/paste remnants from search in order to retrieve some of my forum. Fortunately that did not happen but I never want to ever have to use the word hindsight, so that's another project I'm working on.