A UFO enthusiast who hacked into US military computers looking for evidence that aliens have visited Earth today signed a written confession in a last-ditch bid to avoid extradition.

Gary McKinnon does however deny that he damaged any computers while searching for evidence of alien encounters.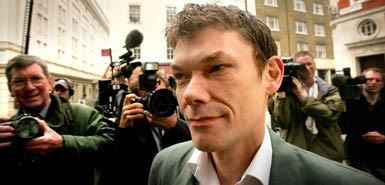 Gary McKinnon, 42, from north London, faces a sentence of up to 80 years in prison if he is found guilty in an American court of hacking into and damaging 97 US Navy, Army, Nasa and Pentagon computers.

Mr McKinnon, who suffers from Asperger's Syndrome, has failed in numerous appeals against the extradition. His lawyer hopes that by handing a signed confession to the Crown Prosecution Service he could be tried in the UK.

Karen Todner, his lawyer, said he still denies causing damage to the computer equipment, which cost $800,000 (£532,500) according to the US authorities. He signed a statement offering to plead guilty under UK law to hacking into the computers in breach of the Misuse of Computers Act.

Ms Todner said she was awaiting a response from the director of public prosecutions, Keir Starmer QC, but added she was hopeful prosecutors would accept the deal.

"They are different offenses to what he was being extradited for, but it reflects his culpability for what he did," she said.

A Crown Prosecution Service spokeswoman confirmed they had received the letter and were considering it.

The US military claims Mr McKinnon, from Wood Green, left 300 computers at a US Navy weapons station unusable immediately after the September 11 terror attacks in 2001.

He is accused of hacking into 53 US Army computers and 26 US Navy computers, including those at US Naval Weapons Station Earle in New Jersey, which is responsible for replenishing munitions and supplies for the Atlantic fleet.

He is also accused of hacking into 16 Nasa computers, one US Department of Defense computer and one machine belonging to the US Air Force.

He was caught in 2002 as he tried to download a grainy black and white photograph which he believed was an alien spacecraft from a Nasa computer housed in the Johnson Space Center in Houston, Texas.

He was easily traced by the authorities because he used a personal e-mail address.

If the case is heard in the US it is thought that he would receive a relatively light sentence and that, under a plea bargain offer, he would spend six to 12 months in a US jail before being returned to Britain to serve the rest of his time.

McKinnon says he was looking for UFO files and his supporters have said this was an obsession that went too far.

He has previously said: "What I did was illegal and wrong and I accept I should be punished. But I am not a member of al-Qaeda. I believe my case is being treated so seriously because they're scared of what I've seen. I'm living in a surreal, nutter's film."

An application for permission for a judicial review of the proposed extradition is expected to be heard at the High Court in London on January 20.
Source: Times Online
For ALL daily and current UFO news click here
****

******

****

**
**

***
................

See each month at a glance on one page
....................
Dec
...
Nov
...
Oct
...
Sept...Aug...July...June