Below the following pictures is the Fox American Newsroom interview with private detectives Frankie Dixon and T.K. Davis who are still in the process of locating a power pole in the City of Capitola, California, in order to locate the photographer of the Capitola drone.



Report from Isaac - Department of Defense whistle blowing report with pictures, linguistic primers and reports from previous employment with PACL (Palo Alto CARET Laboratory) for a program called C.A.R.E.T. (Commercial Applications Research for Extra-terrestrial Technology).
PHOTOS ABOVE AND BELOW WERE PART OF C.A.R.E.T.


CAPITOLA - MAY 15, 2007 - BY RAJMAN AND OTHER WITNESSES
BIG BASIN - JUNE 5, 2007 - BY STEPHEN AND OTHER WITNESSES

BIG BASIN DRONE - JUNE 5, 2007 - BY TY AND OTHER WITNESSES



FOX AMERICAN NEWSROOM INTERVIEW










ANOTHER NEW VIDEO
FOX AND FRIENDS








Original Los Angeles Times article.
CAPITOLA DRONE UFO - A COLD CASE FROM OUTER SPACE

The following are other drone reports that came forward both before and after the Capitola, Big Basin and Bakersfield drones as well as what was reported by Isaac.

Fort Smith, Arkansa - November 2007 - Melody McIver Thaxton
Near Maxwell AFB - June 25, 2007 - Ted Connors
Bakersfield California - May 6, 2007 - Chad and witnesses
Lake Tahoe - May 5, 2007 - Anonymous husband and wife
Birmingham Alabama - May 2006 - John Smith - Podcast
Inverview - Sequoia National Forest - May 25th, 2005 - Shirley
Article - Sequoia National Forest - May 25th, 2005 - Shirley
Hartshorne, Oklahoma - June, 2003 - Anonymous
Barksdale AFB, Louisiana - 1987 Airshow - Anonymous witnesses



INTERESTED IN OTHERS WITH LIKE INTERESTS?
COME AND VISIT THE ALIEN CASEBOOK FORUM




ALIEN CASEBOOK FORUM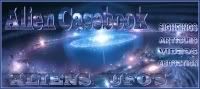 DRONE RESEARCH TEAM