In recent days, a communications team in Hampton, Va., has completed its video documentary of a retired state legislator's having observed, while in office, a one-page "brief" addressed to president Eisenhower, in which unknown executive-branch officials lay out the case for the benign presence of extraterrestrial visitors.
Henry W. McElroy, Jr, retiring State Representative to New Hampshire, declared this week that former U.S. President Eisenhower was briefed about the presence of extraterrestrial intelligent beings on Earth. McElroy also said that the document he viewed while at the State Legislature made referrence to the opportunity for Eisenhower to meet the alien visitors.
Here below is an accompanying article regarding the video above. Just click on the picture and it will take you directly to the article.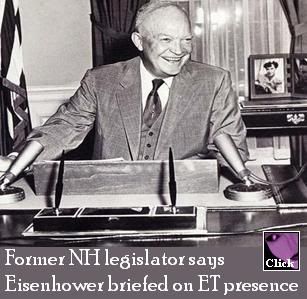 Apr 2010
Mar 2010
Feb 2010
Jan 2010
Dec 2009
Nov 2009
Oct 2009
Sept 2009
Aug 2009
July 2009
June 2009
May 2009
Apr 2009
Mar 2009
Feb 2009
Jan 2009
Dec 2008
Nov 2008
Oct 2008
Sept 2008
Aug 2008
July 2008
June 2008