Click on this video picture below and see the whole show in it's entirety now - It'll take you to the page.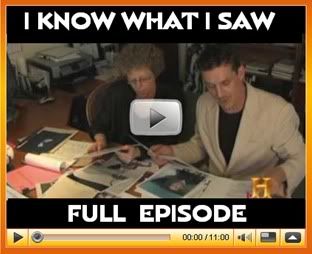 "This is the most compelling documentary I have ever seen on the subject of UFOs. It has a laser beam focus and presents an undeniable body of evidence which will turn the biggest skeptics into believers. James Fox has provided us with a unique public service by busting through the veils of secrecy and giving us the startling facts!"
— FIFE SYMINGTON, FORMER ARIZONA GOVERNOR
"As you know, I just screened a cut of I KNOW WHAT I SAW and I was floored. As someone with almost 30 years experience in the entertainment industry, I have to say this is truly the most credible film on UFOs I've ever seen -- and you know I've seen many. I felt your juxtaposition of all the startling new evidence with your own personal journey to uncover the truth was totally compelling. Your tenacity and unshakeable faith really comes through loud and clear."
— LARRY LANDSMAN, NBC UNIVERSAL
For more information visit
For ALL daily and current UFO news click here
...........
...........




Aug 2009
July 2009
June 2009
May 2009
Apr 2009
Mar 2009
Feb 2009
Jan 2009
Dec 2008
Nov 2008
Oct 2008
Sept 2008
Aug 2008
Jul 2008
Jun 200