NY-SPI INVESTIGATES airs on Saturday, December 13 at 10pm ET and on Sunday, December 14 at 1am and 1pm ET on Investigation Discovery (ID), a Discovery network focused on fact-based investigative content about culture, history and the human condition.
Originally aired as UFO Hunters on SciFi Channel, the program has been modified for Investigation Discovery (ID). This new version contains never-before-shown scenes so shocking, that the other channel was unwilling to broadcast them. Tune in as you see firsthand the passion, dedication and professionalism that drives the NY-SPI team to uncover the truth and to help those affected by the UFO phenomenon.
In this special, ufologists use cutting-edge technology to investigate claims of UFO sightings and otherworldly experiences. Co-founders Oliver Kemenczky and Ted Davis of the New York Strange Phenomena Investigators (NY-SPI), along with researcher/investigator Dennis Anderson, will investigate, review and reveal their findings after each investigation.
Click on the picture below to meet the team.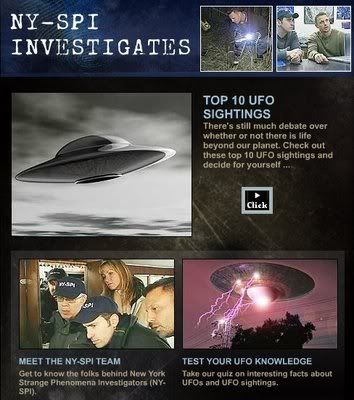 ****

******

****

**
**

***
................

See each month at a glance on one page

...
November
...
October
...
September...August...July...June